Screen Enclosures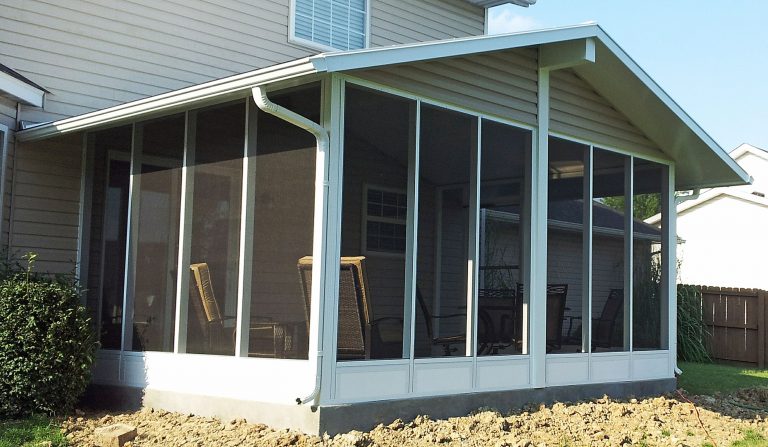 If you find:
Your concrete patio or deck is unbearable to hang out on in the summer.
You are tired of outdoor family gatherings getting rained out.
The bugs are driving you crazy.
It may be time to consider a permanent solution to the problem by enclosing that area.
Awnings, Windows & Siding, Inc. has many different types of permanent screen enclosures that generally can be installed in a few days on your site. We offer non-insulated roll formed Flat pan or W-pan roofs that come in a variety of colors. We can then custom build our screen walls beneath the roof. We can install as many doors in the structure as you would like. The screen enclosure walls come in a dark brown, Ivory, clay or white color which goes nicely with many different palettes. This type of enclosure is a low cost alternative to wood structures plus it comes already painted with a 10 year warranty on the finish.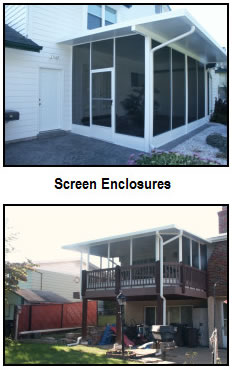 We also offer the Insulated or Laminated roof panel as an alternative to cover your Screen Enclosure. This type of roof has many advantages. First, the Insulated roof panels are just that! They have anywhere between 3", 4", or 6" of compressed Styrofoam which has been laminated on both top and bottom with an aluminum skin. This type of cover can handle a lot of weight. As a matter of fact my installers routinely walk on top of them during the installation process. This type of cover can also support a ceiling fan. This is the same type of roof we use over our glass enclosures. It provides excellent R-value and works nicely should you ever decide to transform your screen enclosure to a 3-season glass enclosure.
Our overhead is lower than that of our competitors!
Consequently, we can design & build your new screen enclosure at a fraction of the cost that larger competitors charge. If you are considering adding a new enclosure to your home, please let us provide you with our 19 years of experience building screen enclosures in the St. Louis area.
Call us Today! 636-939-0402