Glass Enclosures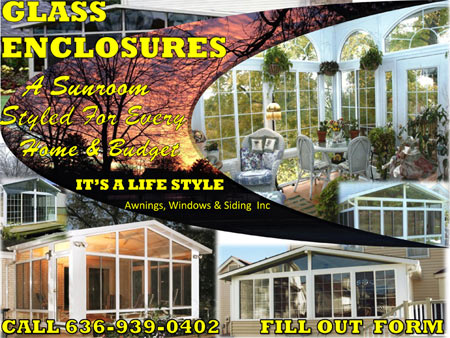 A patio enclosure or sunroom can be added to create a unique indoor space with all the comforts. This space lets in an abundance of light, and feels completely different than any other room in your home. Many of our customers have said they spend more time in their new room than any place else in their home.
From a beautiful space to have a quiet morning cup of coffee to a lovely place to have the holiday functions for the family, a glass sunroom makes for a wonderful addition to your living space.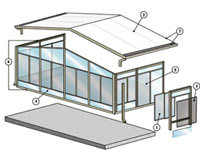 Awnings, Windows & Siding, Inc. builds 4- season & 3-season enclosures. An all season or 4- season enclosure is built from aluminum framing which has structural thermal breaks in the frame. The thermal break stops the conduction of cold transferring through the framing member. This along with our double-pane thermal windows helps the space stay warm in the winter and cool in the summer. We can also supply a separate heating and cooling unit for the enclosure.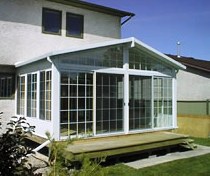 A 3-season enclosure is designed to be used primarily in the spring, summer, and into late fall. This type of room does not have the thermal features of the 4-season room, but can still provide comfort most of the year. This type of room appeals to the customer who wants to take a screen enclosure one step further, but would still like to have the option of opening the windows and ventilating for fresh air.
Our overhead is lower than that of our competitors!
Consequently, we can design & build your new enclosure at a fraction of the cost that larger competitors charge. If you are considering adding a new enclosure to your home, please let us provide you with our 19 years of experience building sunrooms for homes all over the St. Louis metropolitan area.
Call us Today! 636-939-0402